We have an entire team of experienced REALTORS® that are here to help with all of your real estate buying and selling needs. Whether you are looking for your dream home or a great piece of land to build a custom home, we can help you every step of the way. Take the time to browse the Columbia, MO neighborhoods below to find an area that would be a good fit for your family. Also, feel free to contact us to get started on your real estate transaction today.
Copperstone
Copperstone certainly offers some of Columbia's finest homes for sale. This beautiful landscape of homes has acres of strolling trails and parks. Dave Dunafon has developed one of the most spacious and luxurious neighborhoods in all of Columbia. Whether you are interested in buying or building your next home, Copperstone is one neighborhood you should check out for yourself.
Old Hawthorne
Old Hawthorne was once a 631-acre horse farm. You will notice that rich history remains in all they do, right down to their logo. This beautiful landscape, is now where some of the city's most beautiful homes are for sale. Old Hawthorne also features a championship, 18-hole golf course with a clubhouse and pool.
Wyndham Ridge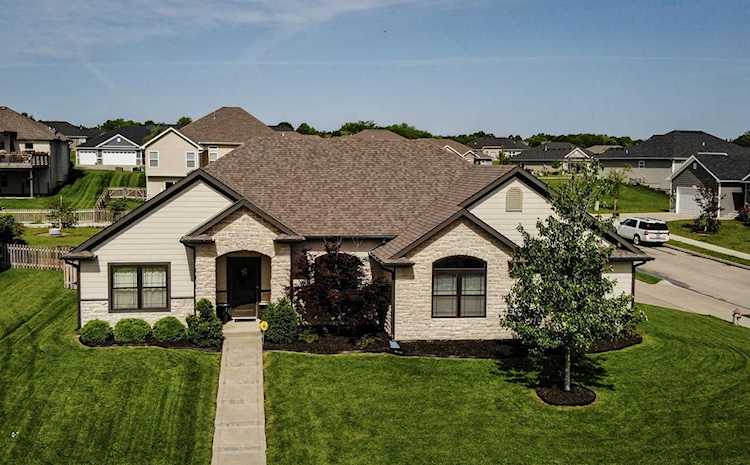 Wyndham Ridge subdivision has a wonderful clubhouse and neighborhood pool for the enjoyment of your family. With 3+ acres of common areas for picnics and trails, it is quickly becoming known as a preferred subdivision for some of Columbia's best builders. Families also pick Wyndham Ridge because of the schools. No matter how old your children are, you can feel confident about Mill Creek Elementary, Gentry Middle, Jefferson Junior High and Rockbridge High schools.
Mill Creek Manor
Ask any current resident of the popular southwest Columbia subdivision Mill Creek Manor how they like living there and they will say, "We don't like it, we love it!" They will go on and on about how the neighbors are always waving and coming up to you to see how you are. Mill Creek Manor is one of Columbia's coolest subdivisions because of the families. They are a mix of professionals and families with all ages of children and many of the families are extremely active on one or more of Columbia's booming sports teams.
Magnolia Falls
Another favorite neighborhood for us is Magnolia Falls off of Old Mill Creek Road in southwest Columbia. Magnolia Falls features homes ranging from $200,000 to the mid $300,000s. There are incredible choices in both slabs and walk-outs. The homes always show super and the neighborhood and area continues to be a favorite. This development has been rejuvenated by Columbia's, Beacon Street Properties. They have done a tremendous job in turning the majority of the lots into walk-outs that back up to beautiful wooded areas and nature.
Cascades
This beautiful neighborhood is being built off of Route K, Old Plank Road and Sinclair Road. If you want a home in a beautiful rural setting with remarkable views, than the Cascades is one subdivision you will want us to show you. Our agents have detailed information on the homes and lots available in the Cascades subdivision. We research and stay informed on everything available and what's becoming available. This southern Boone County neighborhood features almost 200 acres of incredible countryside that serves as the backdrop for this amazing development.
Spring Creek
Spring Creek is known for homes with beautiful architecture and design. It offers plenty of common areas for taking nice strolls around the neighborhood. Columbia Real Estate is a preferred listing agent in Columbia and is proud to work with residents and potential buyers of Spring Creek homes. Spring Creek has direct access to the MKT Trail and is a favorite of families, whose fitness is a priority. Spring Creek homes range between $225,000 and $1,000,000.
Thornbrook
This spacious subdivision serves home to some of Columbia's nicest homes. This rural county setting is perfect for all of the custom brick and stone mega homes. Thornbrook also offers more amenities than most Columbia neighborhoods. The subdivision features a large clubhouse, swimming pool, playground, two lakes and tennis courts. There is plenty to do to stay fit in Thornbrook. It is also known for all of its custom-built homes. These large elegant homes add stature, elegance and comfort to a wonderful neighborhood.
Smithton Ridge

Smithton Ridge on Columbia's west side is a very popular neighborhood. It is located between Broadway and Worley Streets and just west of Silvey Street. Residents of Smithton Ridge say they love the affordability of these medium to large sized homes. Another huge benefit that residents boast about, is the fantastic convenience of Smithton Ridge. It is a few minutes from Hy Vee, Shakespeare's, Wal Mart and more. Columbia's west side is full of booming businesses that will make your life easier and more pleasurable!